WhatsApp DELTA, also known as DELTA YoWhatsApp, is one of the modifications with more extra functions that currently exist. With the possibility of customizing absolutely everything, besides being able to configure all the privacy and security options that exist, without forgetting all its extra features.
In addition, WhatsApp DELTA is based on Fouad WhatsApp, possibly the king of the modifications, from which it inherits all its functions, to which it adds its own, thus achieving a modification really with many options and extra features that we will not find in any other modification.
Features
As we have already mentioned, WhatsApp DELTA has all the features of Fouad WhatsApp, to which it adds many others, some really very interesting, especially related to customization, such as the possibility of choosing between 3 types of themes: Light, Dark and Transparent.
The main features that we can find are:
Light, Dark, Custom and Transparent theme.
Customized emoticons and fancy texts for statuses and chat
Custom tab and layer icons (Replace them with your icons in sdcard/DELTA/WhatsApp/icons/)
Wallpaper editor with Telegram Patern
Non-Disturbance Mode (DND)
Curved background navigation menu
Instagram-like statuses
Layer layout
Custom search
All the features of Fouad WhatsApp
And more…
What's New WhatsApp DELTA 5.3.0b1
As you can see in the official list of new features, with each new update of WhatsApp DELTA its developer always includes really interesting new features, many of them exclusive, since we can not find them in any other modification of WhatsApp, in addition to the typical corrections and performance improvements.
The list of new features in the latest WhatsApp DELTA 5.3.0b1 version is as follows:
Version 5.3.0b1:

[Base] Updated to Fouad 9.90
[Added] Custom Tab Indicator

Version 5.2.3F:

[Extended] Extended Version
[Added] New Tab Style
[Fixed] Bug fixes

Version 5.2.2F:

[Added] Minima UI
[Added] Instagram View for Status or Favorite Contact
[Added] Option for Files Access Manager
[Added] Experimental – Grid View
[Fixed] Cannot Open Camera

Version 5.2.1:

[Base] Base update to FMWA 9.82.
[Fixed] HD Video.

Version 5.2.0F:

[Added] HOME CURVE WAVE
[Added] New reactions menu
[Added] New settings adjustments
[Misc] Other bug fixes and improvements

Version 5.2.0:

[Base] Base update to FMWA 9.81.
[Added] "Mark As Read" inside chat when hide blue tick is enabled
[Added] See Original Message before Edit
[Added] Save feature for new Video Messages
[Added] Icon next to "Edited" for users to notice
[Added] Hide Play Voice/Video notes option
[Added] Send Quick Video Message (click once on mic icon)
[Enabled] New Navbar UI
[Enabled] Send media in HD
[Enabled] Pin message for 24hr, 7 days or 30 days
[Enabled] Share Status on Facebook (Status tab > Status Privacy)
[Fixed] Storage permission problem in Android 13+
[Fixed] Restore Backup in Android 13+
[Fixed] Download emoji packs in Android 13+
[Fixed] Forwarding messages crash for some users
[Fixed] Status privacy crash for some users
[Fixed] WA Nav Unread Badge not taking color
[Fixed] Elapsed time option
[Fixed] Video Note Message download icon not appearing sometimes
[Fixed] Concept entry increased space between quoted message
[Misc] Other bugs and improvements in WhatsApp Delta
NOTE: If you get an error when pressing a message, please activate the option: Menu > Settings > Mods > "Reaction Menu View"

Version 5.1.2E:

[Base] Updated to FMWA 9.74
[Extended] Expiration date

Version 5.1.1:

[Added] Chat UI Customize Option
[Added] Chats Row Size
[Added] New Entry Layout
[Fixed] Fixed Bugs

Version 5.1.0:

[Base] Updated to FMWA 9.71
[Added] Fake Message
[Added] Show Original Chat in Edited Message
[Added] Send docs, media, audio up to 100MB+ size
[Fixed] View Once Download option
[Fixed] View Once mark as open option
[Fixed] Contact Online Toast (know who is online)
[Fixed] Archived not showing in groups tab

Version 5.0.3F:

[Fixed] Crash on Start App
[Fixed] Freeze on Some Device
[Fixed] Search on IOS Home UI

Version 5.0.3:

[Added] AntiBan FM9.65
[Added] LEFT and RIGHT Tab Home UI
[Added] Home Drawer View
[Added] Favorites Contact access in Home Drawer View
[Added] Home ViewPager Animation and Scrollable
[Added] Carrousel Stories View
[Misc] Bug fixes and Improvements

Version 5.0.2:

[Base] Updated to FMWA 9.63
[Added] HOME IOS & SIMPLE
[Added] High resolution image
[Added] Chat filter
[Fixed] Some bugs and more.

Version 5.0.1:

[Base] UPDATED to FMWA 9.62
[Added] Multi Account (Tap Profile Picture on DELTA Settings)

Version 5.0.0b2:

[Added] Separate Groups and Chats Button Now's Visible
[Added] Translation for: Portuguese, English, Chinese, Urdu, Turkish, Russian, Italian, Indonesian, French, Persian, Spanish, German, Japanese, Arabic and Thai
[Added] Transparent Theme
[Added] Curve and Wave Home UI
[Added] Hide Floating Entry Button
[Fixed] Fixed Bugs

Version 5.0.0b1:

[Base] Updated to FMWA 9.52F
[Added] Online point settings and positions
[Added] Blur on background and header image
[Fixed] Single view issue fixed
Note: DELTA Decryptor for decrypt message in WA stock.
Copy encrypted message.
Open DELTA Decryptor.
Paste int Encrypted Box.
Input Pass Key.
Click on FAB unlock icon.
You will get decrypted message.
Install WhatsApp DELTA
If you want to install WhatsApp DELTA for the first time, then you will need to follow a series of simple but important steps:
Make a backup of your chats.
Uninstall the WhatsApp or Modification you have installed (best from Google Play)
Enable the option to install applications from unknown sources. To do this, and depending on the version of Android that your device has:

Android 4.1 to 7: Activate the option "Install from Unknown Sources" or " Unknown Sources". It is usually located in Phone Settings > Security.
Android 8 or higher: Go to Device Settings > Applications. Here we look for the application from where we are going to install the downloaded APK, any device manager, and in advanced settings we click on Install applications from unknown sources and activate the option. NOTE: Clicking on the APK to install also gives us the possibility to go to settings to activate this option.

Download the latest version available depending on where you want to install WhatsApp DELTA (main or secondary number).
Click on the APK or downloaded package and follow the typical installation steps, such as verify number, restore backup…
Finally, when it asks you how often you want to send backups to Google Drive, select Never.
Update WhatsApp DELTA
If what you want is to update WhatsApp DELTA, then the steps to follow are much simpler, simply download the same package installed and click on it so that the update starts, but you have to download the same package or APK that you have installed on your device, because if you do not you will lose your conversations.
To find out which WhatsApp DELTA package or APK you have installed on your Android device go to "Menu > Settings > Help > App Info" then depending on the package installed you will see the following:
WhatsApp: com.whatsapp package
YoWhatsApp: Package com.yowhatsapp
GBWhatsApp: Package com.gbwhatsapp
FMWhatsApp: Package com.fmwhatsapp
DELTA WhatsApp: Package com.deltawhatsapp
WhatsApp 4B: Package com.whatsapp4b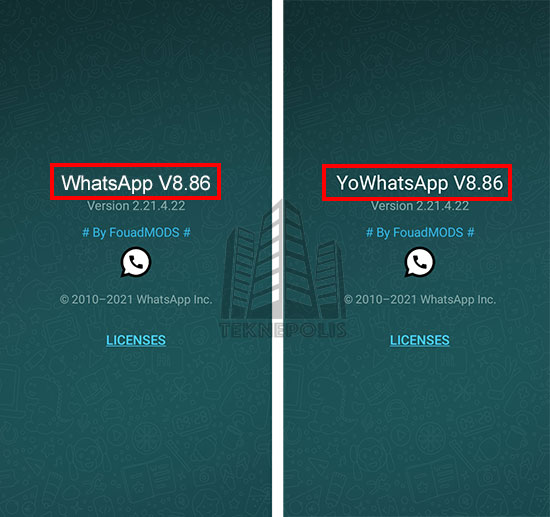 Download WhatsApp DELTA APK
To download WhatsApp DELTA APK 2023 we have available 7 packages; the com.whatsapp package is used to install the application as the main number, while the other 6 packages are used to install the application as an extra or secondary number, for which we will need an extra SIM card.
Below are the links to download the latest version available:
IMPORTANT NOTE:
This program is a modified version of the original application, developed by third parties unrelated to its owner and TeknePolis, who do not verify, validate or approve it. The download, installation and use of this program is the sole responsibility of the user, and TeknePolis assumes no responsibility for the effects or results it may produce on the user's terminal. Neither TeknePolis nor the original developer of the modified application nor any of its trademarks are affiliated with this version.