YoWhatsApp GOLD is a modification of WhatsApp that can be misleading because of its name, since it does not have a golden user interface, but its developer wanted to give it this name to differentiate it from others. Undoubtedly, one of the best types of WhatsApp that exist.
One of the great advantages of this modification is that it uses a fairly updated base with respect to other modifications, so we will have access to the latest news of the official version of WhatsApp for Android before than with other modifications, which can be a great advantage.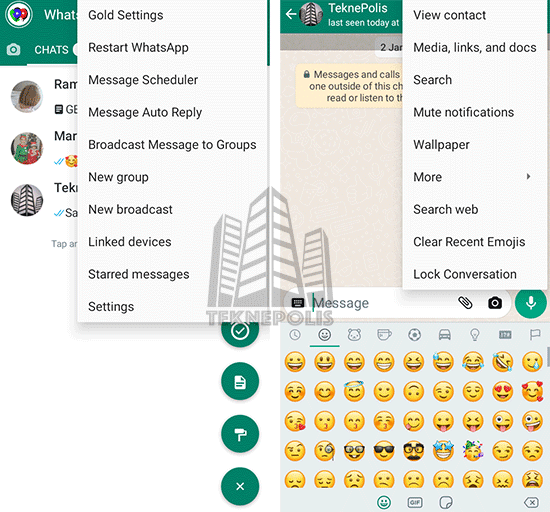 Features
Among the features of downloading YoWhatsApp GOLD stand out its privacy options, as well as the possibility of downloading among the thousands of available themes and many extra features available such as scheduled messages or automatic replies. Undoubtedly a modification very similar to YoWhatsApp.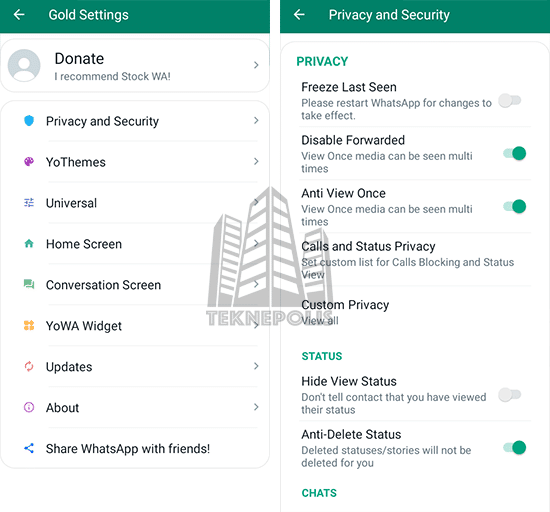 Here is a list of the main features of YoWhatsApp GOLD:
Base 2.22.20.79
Ban proof.
Supports calls.
Emoji changer!
Zoom for profile pictures.
Privacy modifications: Hide "last viewed".
Theme mods and theme server (to download/apply themes).
Modification of ticks/bubbles.
Counter statistics for the group.
Preview of unloaded media.
Show online/last viewed on main screen.
Increase video sending size from 16 MB to 30 MB.
Increase image sending from 10 images to 90 images.
Increase status words from 139 characters to 250.
Ability to proceed with links in the chat screen without saving the sender's variety or the cluster manager's variety.
Ability to click on links in your friends' statuses effortlessly.
The ability to identify between traditional and broadcast messages.
Hide name and date while copying to another chat user.
Copy and paste status.
Added more support for pdf, xls, txt, doc, doc, ppt, vcard, xlsx, txt, rtf, docx, pptx, and zip files.
What's New YoWhatsApp GOLD 10.80
As always its developer has included some new features to YoWhatsApp GOLD, as well as many bug fixes to improve the overall performance of the application. Also its base has been updated to the new version 2.22.20.79, one of the most updated of all mods.
The complete list of new features of YoWhatsApp GOLD 10.80 is:
Version 10.80:

[Base] Updated to 2.22.20.79
[Added] Execlusive! Repeat Scheduled message Daily, Weekly, Monthly, or Yearly.
[Added] Ability to share multiple images/videos/files at same time from chat to outside apps!
[Added] Package name to About page to help users know.
[Improved] App translation in all languages.
[Enabled] Create Polls and voting in groups!
[Enabled] Filter unread messages using search
[Enabled] New drawing pen
[Enabled] Online privacy! You can choose who can see when you're online. (Settings > Account > Privacy)
[Enabled] Leave groups secretly without all people knowing (only admins can see you left)
[Enabled] Admin can remove other people messages in group chats (only works when users on new base)
[Enabled] Ability to see past participants of groups (who left and when!)
[Enabled] Quick reactions to Status
[Enabled] 'UNDO' for delete for me
[Enabled] New Text Status UI
[Enabled] New status privacy design UI
[Fixed] Message forwarding to Groups.
[Fixed] Go to first message
[Fixed] View all person's messages in group chat
[Fixed] Group Message counter in group info page
[Fixed] See all deleted messages by any person
[Fixed] App translation issues
[Fixed] Other small bugs in YoWhatsApp GOLD
[Misc] Improved Anti-ban

Version 10.75:

Base Update Updated to 2.22.11.82 – Play Store
Fixes and improvements

Version 10.67:
Version 10.60:

Base Update Updated to 2.22.5.72 – Play Store
Exclusive "Status Forward" option to forward other's status to your's.
Exclusive "Save to Gallery" option when Media Visibility is turned off.
Exclusive Custom Media Auto-Download
Exclusive Quick Reply dialog to reply any chat without opening it.
Enable Reactions feature (Long press any msg)
Enable Pause and resume voice note recording
Enable New Contact Profile UI design
Added Status View Toast (Settings > Home Screen > Status). Know immediately when people watch your status
Re-Added In-App Translation
Re-Added Text Status Translation
Added Show total message count in View All Messages screen
Added Clear Backup option now delete all old backups data. More space saving. (Settings > Universal > Backup And Restore > Clear)
Enable Disappearing messages: more options (24hrs, 7 days, 90 days)
Fixed Gold Backup folder taking big storage space
Fixed Widget Loading Error
Fixed Calling by Phone Call option giving wrong number sometimes
Other fixes and improvements

Version 10.50:

Base update to 2.21.24.220
Fixed Some Bugs

Version 10.40:

Base update to 2.21.16.20
View Once Disable – you can view any media file unlimited times instead of once.
Added you can Download View Once media

Version 10.30:

Base update to 2.21.8.17
Fixed Some Bugs in YOWhatsApp GOLD

Version 10.20:

Base update to 2.21.1.13
Fixed Some Bugs

Version 10.15:
Version 10.10:

Base update to 2.20.205.16
Enabled Disappearing messages option
Crash fixed for low end android devices
Added 5 new entry style
Added 14 new tick style
Added new 15+ bubble style
Added Mentions name color picker (Home screen > Rows> Mention color)
Added 'Always play video status with sound' option ( Home screen > statuses)
Improved Hide chats divider.
Fixed Quick sidebar counter realtime update
Fixed home counter for arabic language
Fixed Hide Convo call icon option
Improved show convo locked icon realtime update
New Data storage management option (official)
Added Custom media auto download
Added new attachment picker UI

Version 9.91:

Base 2.20.200.22
Blue tick on reply for custom contact
Custom media auto download
Long Click on header text for Light/Dark theme
Added font option in universal > style
Fixed theme option for android 9.x and higher
fixed all conversation entry style
Added BOR in custom reply
Advanced search in home screen (official)
Fixed scheduler message for more than one contacts
Fixed counter in home screen group tab
Enabled Messenger room
Fixed ignore archived chats
Added slide right bubble actions in GoldSettings>convoscreen>bubbleticks>right bubbleaction
Fixed Convo pic for media message
Fixed conversation screen background
Added 66 fonts style
Added options for disable continuous play for audio/voice notes
Enhanced universal background color
Fixed hide status view in custom privacy
And many more fixes
How to install YoWhatsApp GOLD
To install YoWhatsApp GOLD for the first time, we must follow a series of important but very simple steps, which you can read below:
Make a backup copy of the chats. Go to "Menu > Settings > Chats > Backup".
Uninstall the WhatsApp you have installed on your device from Google Play.
Enable, if it is not already enabled, the installation of applications from unknown sources, to do so, and according to your Android version:

Android 5 to 7: Enable the option "Install from Unknown Sources" or " Unknown Sources". It is usually in Phone Settings > Security.
Android 8 or higher: Go to Device Settings > Applications. Here look for the application from where you are going to install the downloaded APK, any device manager, and in advanced settings click on Install apps from unknown sources and activate the option. NOTE: Clicking on the APK to install also gives us the possibility to go to settings to activate this option.

Download package or APK of the latest version available (below are the links)
Click on the package or APK to start the installation.
Before verifying the number and so on, go to your device settings and under Applications look for WhatsApp, grant all permissions to the application.
Click on the YoWhatsApp GOLD icon and accept conditions, verify number, restore backup and enter profile picture and name.
If it asks how often you want to upload backups to Google Drive, click on NEVER, as no modification works with this application.
How to update YoWhatsApp Gold
If instead you want to update YoWhatsApp GOLD to the latest version available, the steps are simpler, simply download the same package or APK you have installed and click on it.
If you don't know which package you have installed, go to "Menu > Settings > Help > App info", and here you can find out which package you need to download:
YoWhatsApp+ : com.whatsapp package.
YoWhatsApp : package com.yowhatsapp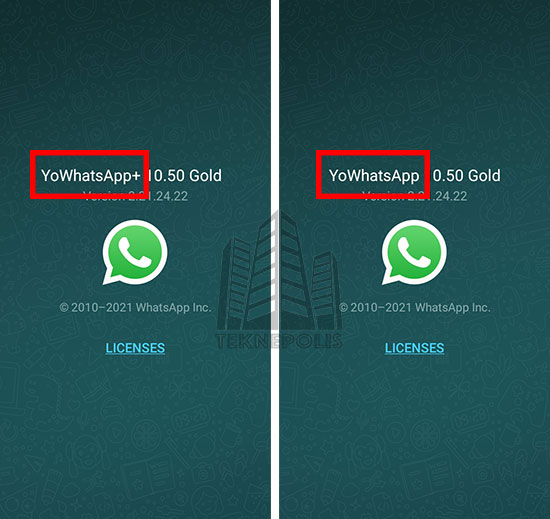 Download YoWhatsApp GOLD 2022
There are 2 different packages to download YoWhatsApp GOLD 2022, among them the com.whatsapp package, which we will download to install the application as the main number. The other package will be used to install it as a secondary or extra number of our WhatsApp account.
Here are the download links for the latest version available:
Download YoWhatsApp GOLD 10.80 > com.whatsapp | com.yowhatsapp
Via > TeknePolis